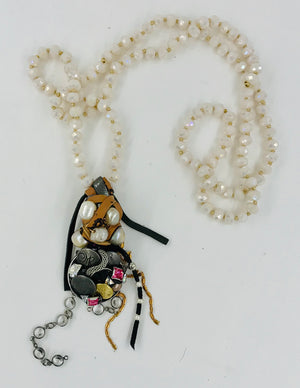 Brass Disc Necklace - "One Good Thing After Another"
Sale price Price $ 89.00 Regular price
An antiqued brass disc is filled with deep pink, clear square and triangle crystals and Caroline Rocha and CMR logo discs. Copper chains, a leather cord with silver-toned beading, and crystal chains with clear circular crystals dangle elegantly alongside.  Topped with leather wrapped fresh water pearls and black leather cords.  Feminine and pretty faceted and knotted milky white beads completes the look.  Feminine and pretty!